This weekend we had our makers fair! Many thanks to everyone who came. It was an amazing time and a great chance to see many of you face to face since the beginning of the pandemic. During the event we have launched some merch too! Our new t-shirts are £15 made with 100% organic cotton through a company who runs on reusable energy! If you missed the event do not worry, just make sure to grab it at the next one! If you enjoyed participating in the fair or are sad you missed it we bring you all the highlights below! Make sure to sign up to the Worthing and Beyond Newsletter to be kept up to date on future events!
The Venue
Our venue for the event was the amazing Handbrew Taproom and Brewery "An independent brewing company with a brewpub in Brighton and brewery and taproom in Worthing, UK, creating high quality, accessible beers for every palate." The team organising the event were professional and knowledgeable, not to mention they had great beer! If you love beer and a friendly atmosphere do not hesitate to check them out here or pop in for a pint!
Our creatives
Huge shout out to our creatives as without them the event would have looked quite different. It was a privilege to put on an event together with such a talented and professional group of people! Check them out below:
Lucky Penny Co – Ceramic Decorations
Jody Lee – Fun illustrations and graphic/character designs
Diane Bailey Art – Esteemed wildlife painter with national accolades
Anna's Drawing Room – Drawings, paintings and prints of plants and landscapes.
Sweetiepips – modern, fun hand-made jewellery.
Sunset Candles – Small batch, plant wax candles
Crafty Little Bakers – Subscription Activity Box
Bird and Button – Bold, colourful, handmade lampshades
Last Born Daughter – Multi-disciplined Designer and Maker
Seaside Moocher – Handmade prints
Kai Jed Creative – Graphic Designer
Annie Jean Prints – Etching and Lino printmaker
Wax Blends – Vegan Wax Melts
Erinn Louise – Print Design Artist
Charities
Of course it would not be a proper Worthing and Beyond event without thinking of our wider community. For this event we ran a charity raffle for two charities: Acorn Pregnancy Counselling Centre as well as Carousel. Both amazing charities that we felt so privileged to be able to work with. Through our raffle we have been able to raise £127.33 for them.
Carousel is a charity that "champions the rights of artists with a learning disability to flourish and be celebrated. In film, music, performance and digital arts, in our partnerships and training, Carousel is dedicated to making learning disabled creativity a valued part of the cultural landscape." a fantastic charity whom you may have read more about in our disability pride month blog post here
Acorn Pregnancy Counselling Centre are "a charity based in Worthing, West Sussex, that offers counselling to women and their partners who find themselves unexpectedly pregnant, who have experienced a pregnancy loss, such as miscarriage or stillbirth, or have experienced abortion", and offer free confidential and non-judgmental services for both men and women.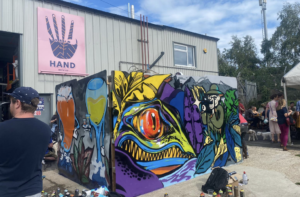 Live Art
The event was not short of amusement either! From live illustration to Morris dancing the event had some excellent entertainment to watch whilst you browsed through the crafts of our makers.
We hope you enjoyed coming to our event as much as we enjoyed creating it for you! If you missed out, do not worry there will be many more amazing events coming!
If you are a Worthing-based creative or business that supports local creativity and are interested in joining our free directory, please get in touch.
Visit the Worthing and Beyond website: click me!